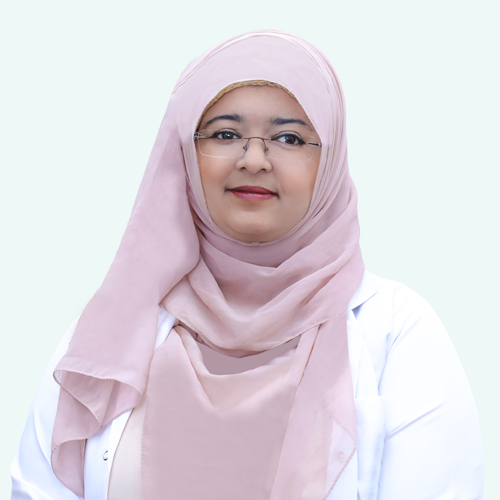 Specialization
Dermatology
Languages spoken
English, Hindi, Tamil, Malayalam, Arabic
Dr Shamma Aboobacker is a specialist, dermatologist, venereologist, cosmetologist and leprologist. She specialises in clinical and cosmetic dermatology. Her ultimate goal is for her patients to be confident and comfortable with their skin, hair, and nails.
Clinical dermatology:
Eczema and psoriatic disorders
Acne vulgaris and it's variants
Urticaria and Allergic dermatitis
Connective tissue disorders
Cutaneous infections
Pigmentary conditions
Keloids and scars
Hair and nail disorders
Dermoscopy
Cosmetology :
Chemical peels
Mesotherapy
Microneedling
Laser therapy
Platelet rich plasma therapy
Scar revisions

Surgical dermatology :
Electrosurgery
Cryosurgery
Biopsy and Histology interpretation
Paring and Comedone extraction
Intralesional therapy
Nail surgery
Dr Shamma gained her medical degree from Rajiv Gandhi University of Health Science (India) and undertook specialist dermatology training at Mafraq Hospital in the United Arab Emirates, Cardiff University in the United Kingdom, and Pondicherry University (India). She also holds a Fellowship in the Arab Academy of Dermatology, Aesthetics, and Lasers and is an NCLC Certified Aesthetic Laser Operator (USA).
In UAE, she has been attached to Al Arif Heart & Children Medical Center, Al Saha Al Shifa hospital and Al Jurf medical center. She previously worked as a resident at the Government Medical College, Calicut, India and as a Consultant Dermatologist at the Open Medicines Clinic and the Nahas Skin Clinic Advanced Laser Centre, India. She has also been an Assistant Professor at KMCT Medical College, India
Dr Shamma is actively involved in research and has published over 13 research articles. She has also spoken at several national and international conferences.