Unveiling Radiant Skin: Dermatology Department
Our Dermatology Department stands as a cornerstone of skin health, dedicated to diagnosing, treating, and managing a diverse array of skin conditions. Led by a team of skilled dermatologists, this department is committed to promoting not only skin wellness but also the overall well-being and confidence of our patients.
Skin, being the body's largest organ, requires specialized care, and that's exactly what our Dermatology Department provides. From common issues like acne, eczema, and psoriasis to more complex concerns such as skin cancers and autoimmune disorders, our dermatologists are equipped with the expertise to offer tailored treatment plans. Dermatology Department emphasizes patient education. Dermatologists empower patients with the knowledge and guidance needed to understand their skin's unique characteristics and how to maintain its health.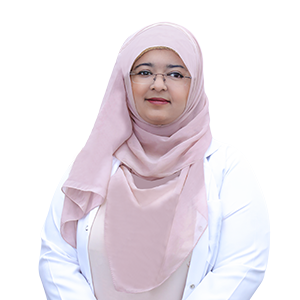 Dr. Shamma Aboobacker
Specialist Dermatologist